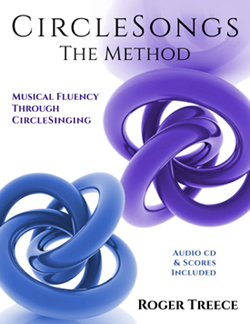 "To me, Roger is one of the most innovative vocal composers, arrangers and musicians in the world. He has opened my ears to totally new ways of working with the human voice, whether we speak about vocal improvisation – like in CircleSinging – or arranging/ composing, like the outstanding music he wrote for Bobby McFerrin on "Vocabularies". By studying this book you will learn a lot about vocal improvisation and arranging/composing at the same time."
Roger provides you with systematic, structured exercises
that help you develop your musical fluency:
the real time integration of technique,
theoretical knowledge, and creative impulse.  
Audio CDs, loop CD and scores included.
CircleSongs: The Method
Special sale for workshop participants.
Includes 2 audio CDs and 1 loop CD.
Read more…